Adult Books
The House at Evelyn's Pond, was published in August 2001 by Allen & Unwin. The story is set in the UK, Australia and Canada, spanning three generations from the Second World War to the present time. Orr charts the energy lines of her characters' lives and marks their points of intersection with insight and tenderness, weaving their individual threads together into a most satisfying whole.
Children's Books
Rescue on Nim's Island, the third Nim story, is Wendy's latest book. It was published by Allen & Unwin in July 2014. This book won the fiction section of the 2015 Environment Award for Children's Literature as well as the new Children's Choice award.
Return to Nim's Island, a Pinnacle Films movie starring Bindi Irwin, was screened around Australia in 2013 and is now available on DVD. See the official trailer here. To co-incide with the release of the film, Allen & Unwin published The Nim Stories, a two book edition, combining the novels by Wendy Orr that inspired the Nim movies, Nim's Island and Nim at Sea. The first Nim movie, Nim's Island was produced by Walden Media and starred Jodie Foster, Abigail Breslin and Gerard Butler. See the official trailer for Nim's Island here.
Rainbow Street Pets, a collection of six stories, was published by Allen & Unwin in Australia in 2012. The same stories were published as a series of separate stories by Henry Holt in the USA between 2011 and 2013.
"Any child who loves animals or who has longed for a pet will enjoy and probably read and reread this collection of six related stories about the animals who come through the Rainbow Street Refuge and their human families... every story is a winner, full of human drama and animal warmth."
~ KATHY KOZLOWSKI, Readings. See the entire review here.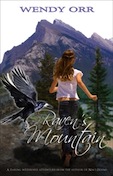 Raven's Mountain was published in Australia by Alen & Unwin and in Canada by Scholastic in 2012 under the title Facing the Mountain. The book was deemed a Children's Book Council of Australia Notable Book in 2012. It was commended in the Best Books For Kids and Teens at the Canadian Children's Book Centre in 2012 and was shortlisted for the 2013 Diamond Willow Awards (Canada).
"Facing the Mountain is a refreshing read for middle schoolers who want a survival story that has a strong sense of character, not just action, with a protagonist who uses her head as she is guided by her heart to make the right decisions. Highly Recommended."

~ ELLEN WU, CM Magazine. See the entire review here.
In 2007 Mokie and Bik was published by Henry Holt in the USA and More Mokie and Bik followed in the USA in 2008 and 2009. 2006 was a busy year for Wendy with three new children's books released in Australia: Across the Dark Sea, published by the National Museum Canberra, Too Much Stuff, a Penguin Nibble; and Mokie and Bik with Allen & Unwin.
Picture Books
Orr's latest picture story book is A Princess and her Panther, which was beautifully illustrated by Lauren Stringer and published by Simon & Schuster in the USA in 2010, is available in Australia through Allen & Unwin. Kirkus described the book as a "warm and cozy tale of sisterly joy and sweet imagination".
Orr's first picture storybook, Amanda's Dinosaur, was published in 1988 by Ashton Scholastic. Arabella (Harper Collins 1998) was beautifully illustrated by Kim Gamble. It's a poetic story about so many important things: the love between a child and his grandfather; the sea, its beauty and ferocity; and the joy and exhilaration of sailing that can be accessible even to a child in a wheelchair.
Younger Readers
Works for beginner readers include three HarperCollins Skinny Books: Tin Can Puppy, (1990, also Macmillan UK), The Great Yackandandah Billy Cart Race (1993) and The Bully Biscuit Gang (1995); the Longman Supa Dooper Alroy's Very Nearly Clean Bedroom (1996; also published by Scholastic Canada 2001) and the Koala Tadpoles, Jessica Joan (1994) and Sally's Painting Room (1997). Short novels include Bad Martha (1991) published by Angus & Robertson, Micki Moon and Daniel Day (1993) published by Allen & Unwin and the HarperCollins books, The Laziest Boy in the World (1994; Korean rights sold to Hyon Am Publishing, 2001) Yassou Nikki (1995); and Poppy's Path (2001) published by Koala Books Australia.
Spook's Shack, was published by Allen & Unwin in 2003. Deep in the bush Finn discovers an old deserted shack. Jack Henry lived there 100 years ago and was friends with all the wild creatures. When Finn is with the old ghost, he can feel what the birds are singing and what the animals are feeling. But now they are all in danger – someone is going to bulldoze the land and wreck their homes. How can one boy, a ghost and his dog save the bush?
Across the Dark Sea, was launched by the National Museum of Australia in 2006, as part of a series of fiction books for young children, Making Tracks, inspired by objects from the Museum's collection. Across the Dark Sea, beautifully illustrated by Donna Rawlins, features a fishing boat used to flee Vietnam after the War. It is the story of Trung and his father who escape attacking soldiers. But what awaits them across the dark sea?
Older Readers
Longer novels include Leaving It to You published by Angus & Robertson (1992 - short listed Australian CBC Awards, Younger Reader Category; published in Denmark by Glyndendal) and Mind Blowing (1994), published by Allen & Unwin. Wendy is best known to high school students for Peeling the Onion, published by Allen & Unwin in 1996 and an honor book in the Australian CBC Awards, Older Reader Category. It was also awarded a Highly Commended Award in the Australian Family Therapists Book Awards. It is about a teenager who suffers a car accident and deals with the consequences. It has been translated into Danish, German, and Italian and English language editions have been released in the USA (Holiday House: hardcover, Bantam Doubleday: paperback) and the UK (Orchard Books).
International Editions
Nim's Island was first published by Allen & Unwin in Australia in 1999 and by Random House (Knopf, hardback and Dell Yearling, paperback) in North America. It has been translated into 28 languages inluding Italian, Dutch, French, Portuguese, Polish, Hebrew, Slovenian, Spanish, Korean, Chinese and Japanese. It was shortlisted for The West Australian Young Readers' Book Award 2001, was listed for many honours in the USA including A Parent's Guide Children's Media Award Winner, 3rd place in the Maine Student Book Awards, and Los Angeles Times Best Books for 2001. In 2009 it was the "Mits'ad Hasfarim" ("The March of Books") winner for the most popular book for grades 4-6 in Israel.
Orr's work has been published by Annick Press in Canada. Aachoo! is a picture book about an unwell child who accompanies her mother to the office for the day. Micki Moon and Daniel Day was published as a series of delightful picture books and Mind Blowing was published as A Light in Space.
Orr has been published in USA by Knoph, Holiday House, Dell Yearling Sundance, Houghton Mifflin, Henry Holt and Bantam Doubleday. Her UK publshers include Orchard Books and Young Piper (Pan Macmillan). She is also published by Castor Poche Flammarion (France), Gyldendal (Denmark), Houtekiet/Fontein (Holland), Aare, DVT Junior (Germany), Asunaro Shobo (Japan), Edizioni EL Frontiere, Salani, RCS Libri & Grandi Opere (Italy), Edelvives (Spain) and Hyon am Publishing (Korea).
Orr has spoken to groups of up to 5000 children at festivals and schools across Australia and in Canada, the USA, India and Singapore. She has been interviewed on radio and television within Australia and internationally, including the BBC in the UK and NPR in the USA. She is available to speak at schools, libraries and literary festivals, both in person and by Skype.
For more information about Wendy and her books, go to Wendy's web site at www.wendyorr.com.